CAT CLASS: 0090370
1500 kW Diesel Generator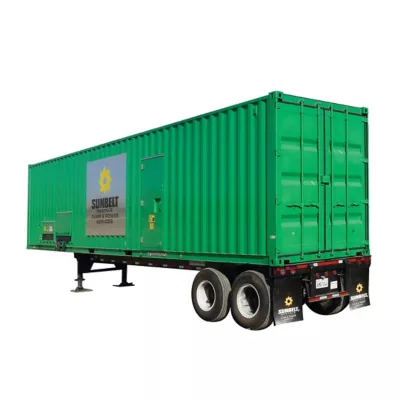 Overview
The 1,500 kW industrial diesel generator provides efficient, continuous-duty solutions for temporary, standby, and emergency power requirements. To meet large capacity requirements, all units are parallelable.

During a declared state of emergency and/or a pending or existing natural disaster, all rentals of this generator type will be billed at a one-week minimum rental period for 24-hours of usage per day. The one-week minimum rental at 24-hour usage rates does not apply to pre-existing generator rentals.
Specifications
Products are subject to availability.
| | | |
| --- | --- | --- |
| Make | Cummins | MQ Power |
| Model | 1500 kW Diesel Generator | 1,500 kW Diesel Generator |
| Consump# Full Load | 104 GPH | 88 GPH |
| Dual Fuel_(NG/LP) | false | false |
| Engine | Cummins 2,220 HP | Cummins 2,220 HP |
| Hertz | 60 | 60 |
| Onboard Fuel Cap | 1,631 gal. | 1,000 gal. |
| Operating Weight | 71960 lbs | 53220 lbs |
| Overall Dimensions | 48'L x 8'W x 12' 6"H | 40'L x 8'W x 12' 8"H |
| Prime Rating | 1,350 kW | 1,250 kW |
| Run Time Full Load | 16 hrs. | 11 hrs. |
| Standby Rating | 1,500 kW | 1,500 kW |