CAT CLASS: 0090350
1000 kW Diesel Generator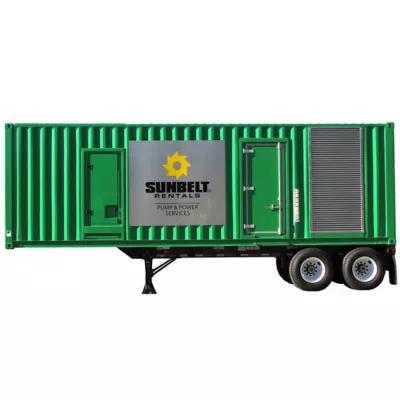 Overview
If you have a high kW industrial project, this 1,000 kW Diesel Generator will handle the job. The high powered generator is equipped to meet all large capacity requirements and provide efficient solutions for temporary, standby, and emergency power requirements. Some features include noise levels rated at 69 dBa, a programmable engine for starting and shutdown, while also using auto dialers for remote operation. This generator is perfect for outdoor events such as music festivals, concerts, and disaster relief.

During a declared state of emergency and/or a pending or existing natural disaster, all rentals of this generator type will be billed at a one-week minimum rental period for 24-hours of usage per day. The one-week minimum rental at 24-hour usage rates does not apply to pre-existing generator rentals.
Specifications
Products are subject to availability.
| | | |
| --- | --- | --- |
| Make | Cummins | MQ Power |
| Model | 1,000 kW Diesel Generator | 1,000 kW Diesel Generator |
| Consump# Full Load | 72.2 GPH | 69.3 GPH |
| Dual Fuel_(NG/LP) | false | false |
| Engine | Cummins 1,490 HP | Cummins 1,380 HP |
| Hertz | 60 | 60 |
| Onboard Fuel Cap | 1,614 gal. | 1,000 gal. |
| Operating Weight | 48059 lbs | 45200 lbs |
| Overall Dimensions | 30'L x 8'W x 12' 6" | 40'L x 8'W x 12' 8"H |
| Prime Rating | 900 kW | 900 kW |
| Run Time Full Load | 22 hrs. | 14 hrs. |
| Standby Rating | 1,000 kW | 1,000 kW |