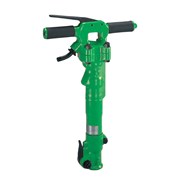 Equipment pricing may vary based on availability and market conditions.
Enter a valid city, state, address or zip above to view rates
Make / Models
APT / 117
Sullair / MPB-30A
Specifications
Cat-Class:

002-0015

Air Requirement:

37-cfm @ 90-psi, 38-cfm @ 90-psi

Applications:

Light to med-duty

BPM:

1850

Chuck size*:

1" hex x 4-1/4"

Class:

35lbs

Length:

22" - 23"

Retainer:

round

Weight:

33lbs - 36lbs
It is very important that you wear all the manufacturer's recommended safety equipment, review all safe operation manuals and decals, and observe all safety precautions when utilizing tools and operating equipment.
Operator/User assumes all responsibility for the use, care, and inspection of Personal Protective Equipment.