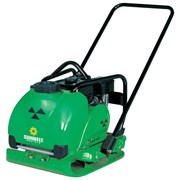 Equipment pricing may vary based on availability and market conditions.
Enter a valid city, state, address or zip above to view rates
Make / Models
Multiquip / MVC-90H
Wacker / WP1540AW
Wacker / WP1550AW
Wacker / WP1550W
Multiquip / MVC-88VGHW
Specifications
Cat-Class:

064-0220

Base Plate (L x W):

22" x 20", 23" x 16", 23" x 20"

Centrifugal Force:

3350lbs - 3450lbs

Engine HP:

5.5, 6.0

Forward Speed:

0-100 fpm, 0-72 fpm, 0-82 fpm

Vibration Frequency:

5800 vpm, 6000 vpm

Water Tank:

11qt - 4qt

Weight:

190lbs - 218lbs
It is very important that you wear all the manufacturer's recommended safety equipment, review all safe operation manuals and decals, and observe all safety precautions when utilizing tools and operating equipment.
Operator/User assumes all responsibility for the use, care, and inspection of Personal Protective Equipment.