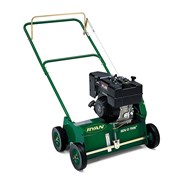 Equipment pricing may vary based on availability and market conditions.
Enter a valid city, state, address or zip above to view rates
Make / Models
Classen / TR-20H
Classen / TRC-20H*
Ryan / Ren-O-Thin IV
Specifications
Cat-Class:

070-0011

Engine:

Honda 5.5-hp

Optional Blade Reels :

Adjustable up to 1-3/8", Verticut: 3/4–2" spacing

Standard Blade Reel:

Flail type: 1" spacing, Flail type: 11/16" spacing , Flail type: 11/16" spacing

Weight:

135lbs - 165lbs

Working Width:

18" - 20"
It is very important that you wear all the manufacturer's recommended safety equipment, review all safe operation manuals and decals, and observe all safety precautions when utilizing tools and operating equipment.
Operator/User assumes all responsibility for the use, care, and inspection of Personal Protective Equipment.